Lösvsjön Herrgård Cottage
Address: Lövsjön 22, 77012 Sunnansjö
show map
Location: Gagnef
Holiday village | A cozy and modern cottage with old-fashioned feel. The cottage is fully equipped for four people. The living room has a "Bergslagen stove" and a fully equipped kitchen.
The living room has a "Bergslagen stove" and a fully equipped kitchen. There are two bedrooms, one of the bedroom has a double bed and the other has two single beds. The bathroom has a shower, sink and toilet.

The use of bedding is required. It is possible to rent bed linen and towels with us.
It is also possible to order breakfast and packed lunches.

The cabin has a lake view and there is a patio with possibility to grill.

Minimum 2 days.
Contact information
Street address 1

Lövsjön 22

City (address)

77012 Sunnansjö

Phone number

46 0240 93025

Phone number (booking)

46 070 5453941

Contact person email

Website
Compare "Lösvsjön Herrgård Cottage" with similar alternatives
In 2010 we bought this characteristic building with a view to renovating it in old style, but supplied with modern luxury. Thus Lövsjön Herrgard has become a Bed and Breakfast Hotel where you can enjoy a marvellous holiday.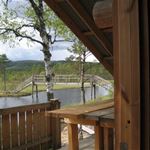 Stay in Beautiful, small, cottages just at Närssjön. Enjoy the access to the wilderness and the silence. Our cottages are replicas of the houses that rafts lived in, and consists of simple wooden beds along the walls, with a fireplace. Outhouse is available next to the houses.
Take the fishmates on a nice weekend. Cottage at the lake Långsjön. Close to hiking trail, roadway within 100 m. Enjoy the tranquility and fishing. Nås is known for good fishing, especially spring angelfishing. Pike 10-15 kg are common.